De Kleine Zaal Invites... Docus van der Made 
Naïmé Perrette, In a quake, a bridge became a cliff
4 maart t/m 2 april 2017, De Vishal Haarlem 
Een vulkaan, een rookpluim, een thermische afwijking. Een satellietbeeld, de schaal digitaal bewerkt van macro tot micro, getransmuteerd van tektonisch tot organisch. Substrata verschuiven, nieuwe gedaantes komen tevoorschijn uit lava en mensenstroom. We passeren een weg die verticaal is komen te staan. Onderwijl ontginnen ingenieurs hun eigen eilanden.  
Prints op PVC en PMMA, 195 x 227 x 110 cm 
Gecureerd door Docus van der Made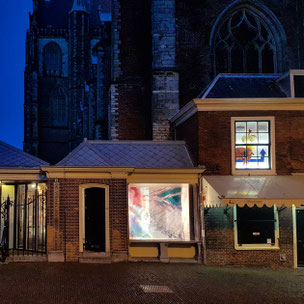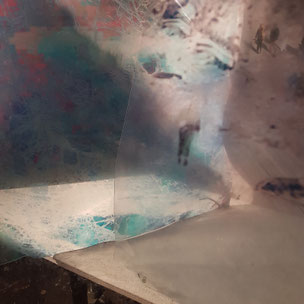 Naimé Perrette, In a quake, a bridge became a cliff (2017)
The Tongue of the Chameleon
Mimicry and manipulation as artistic strategies
June 2015, Locatie Z, Den Haag 
Art is a game of hiding and showing. The Tongue of the Chameleon presented an exhibition with artworks that take this game one step further. By using mimetic appropriation and playing with existing situations and practices, like the exhibition space itself, the works subtly influence visitors and their expectations. Simultaneously they show their true colours, making the viewer increasingly aware of the machinations in use — ranging from rhetorics to physical interventions. 
In a series of short lectures The Tongue of the Chameleon further explored strategies of manipulation, as used not only in the visual arts but also in theatre and advertising. 
Artists: Nicoline van Harskamp, Tim Hollander, Matthias König, Anika Schwarzlose, and Jeannette Slütter 
Lectures by: Daan de Raaf, Frank Mineur, and Anika Schwarzlose 
Curated and public programming by: Docus van der Made & Pia Louwerens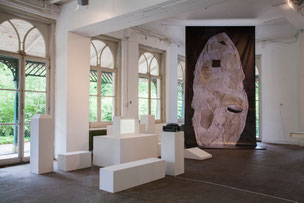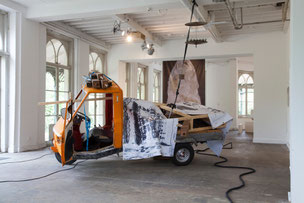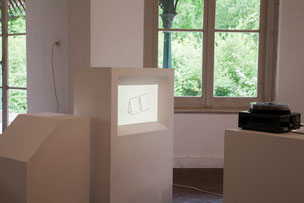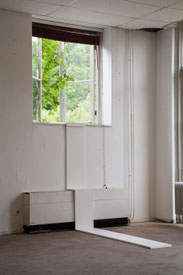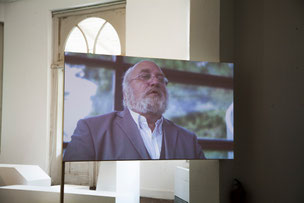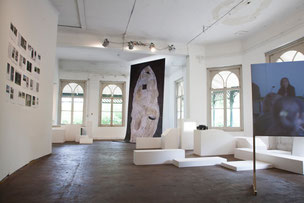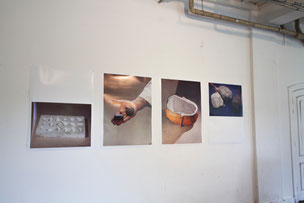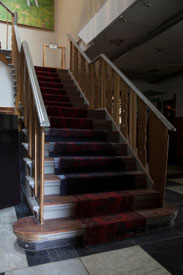 Photography by Rixt de Boer
Betwixt and Between
2015, Jan van Eyck Academy, Maastricht 
The exhibition Betwixt & Between explores the grand Jan Van Eyck Academy collection of artists' books, focussing on the different disciplines and collaborations that characterise the Jan van Eyck Academie. In the jointly presented publication Betwixt & Between, art journal Kunstlicht already investigated the artists' book as in-between medium, that keeps place between, for instance, visual arts and text, and two-dimensional representation and physicality. Within the context of the Van Eyck, this idea is taken a step further by crossing the borders between the different disciplines involved in bookmaking at the academy. Over the course of the years, the distinctions between classic disciplines, like visual arts, graphic design and writing, seem to have faded within this institution. 
On the 23rd of June, The issue Betwixt & Between: Artists' Books and Materiality was launched on the 23d of June at the Jan van Eyck, with an evening of lectures by art historian Johan Pas and photographer, lecturer and publisher Delphine Bedel.  
Curated by Docus Van Der Made and Veerle Spronck
Graphic design by Rosa te Velde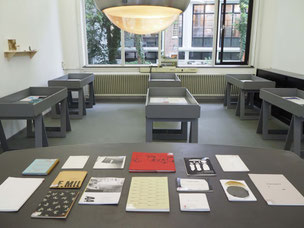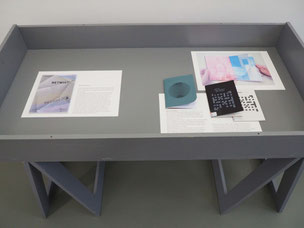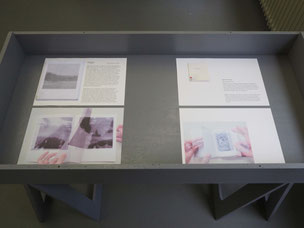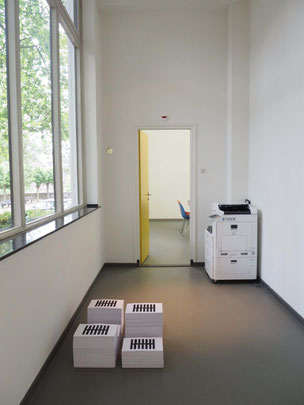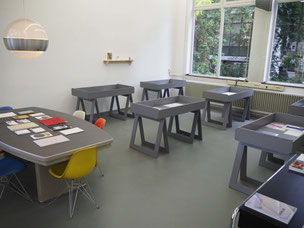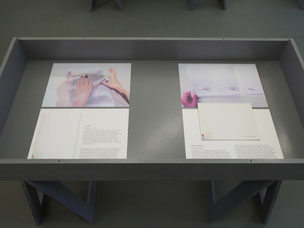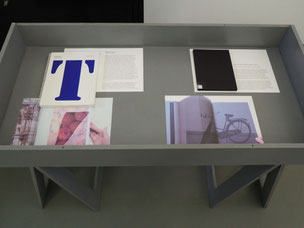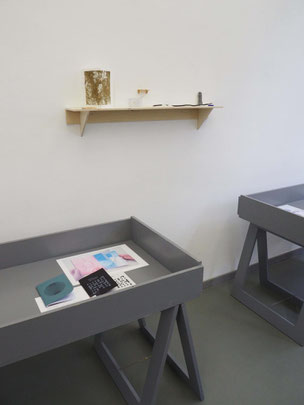 Contributions to the exhibition by Chaim van Luit (left) and Martin La Roche (right)
Relax Baby Be Cool
The Holls Art Collective at Haarlemse Lente 2013
The first exhibition of The Holls Collective, presented during the art festival Haarlemse Lente 2013. 
Curated by Docus van der Made and Marjolein van de Ven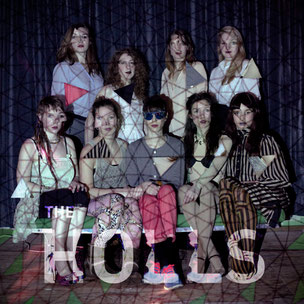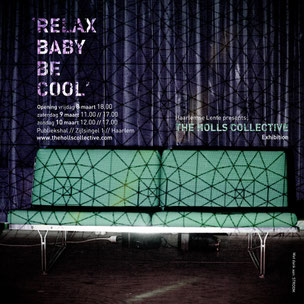 Photographs by Luuk Smits and Florian Braakman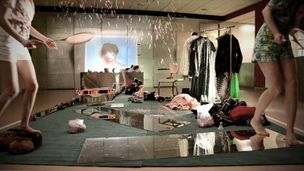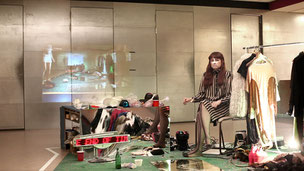 Iris Donker & Katinka van Gorkum, In de Gloria - Installation / Performance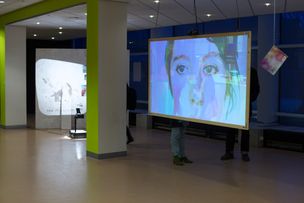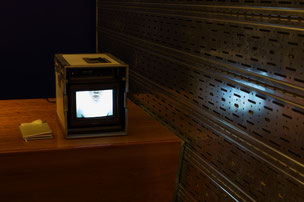 Saskia Burggraaf, Blozen is geen kunst - video installation; De mythe van het kunstenaarschap - video installation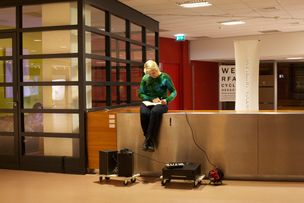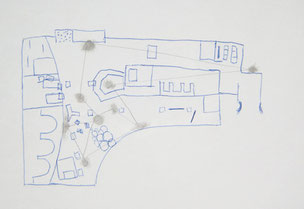 Pia Louwerens, Vluchtroutes - performance and drawings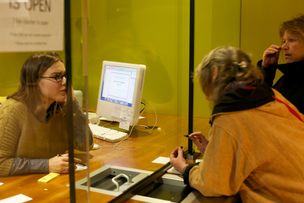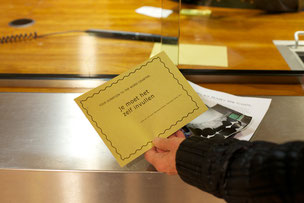 Machteld Rullens, I give you my word - performance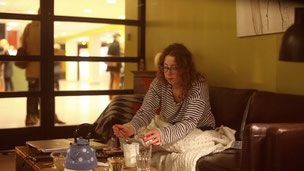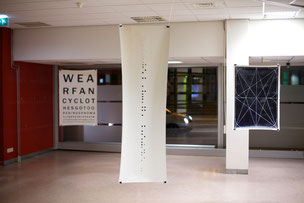 Left: Lisanne Ackermann, Please Do Not Disturb - performance
Right: Lotte Pet, Fake it till you make it; Curriculum Mortis; Written in the stars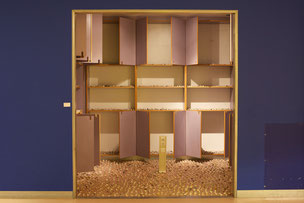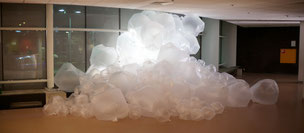 Josje Hattink, Pick one - installation; Gasp - installation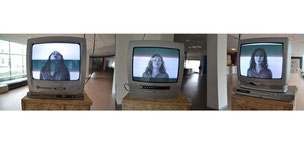 Dóra Benyó, CIRCUIT - video-installatie